Free Symptom Awareness Cards!
Our vision is a world without ovarian cancer.
To help achieve that vision, we strive to make everyone aware of the symptoms, which can be vague and easy to dismiss otherwise.
How You Can Help
When people ask you about your teal toes, tell them all about ovarian cancer and give them one of our symptom cards to keep or pass along. The cards are business card size, with the Teal Toes logo on one side, and ovarian cancer symptoms on the back.  Send us a note below and we'll mail some to you right away free-of-charge.  Educating everyone about symptom awareness is what we do.

If you are a salon or vendor, we invite you to participate in our awareness campaign.  There are many ways to participate!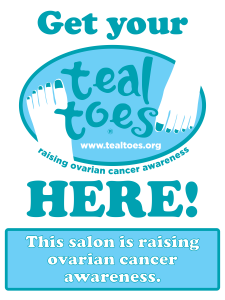 Offer teal polish in your salon.  Many lovely teal polishes are currently available.  A few options can be found here.
Feature Teal Toes cards in an area of your salon.  Encourage our customers to take one.  We will gladly send you cards, free of charge.  We can also assist you with flyers or signs.
Use our table tents – folded displays announcing your support for raising awareness through Teal Toes!
Consider offering a discount on pedicures that use teal polish.
Donate to your local cancer center or Ovarian Cancer organization for each teal pedicure done in your salon.
Use our free materials (like this salon poster, available to order) to show all of your customers that your salon is helping to raise awareness!
Feel free to copy our logo to use in any newsletter, blog, or other communication you can to help us spread awareness this September.