Our Story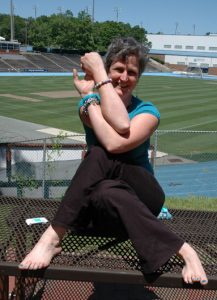 Carey Fitzmaurice first painted her toes teal in 2007 as a way to wear the awareness color at the Ovarian Cancer Research Alliance's Annual Conference.  A few weeks later, Carey painted her toes teal again in preparation for National Ovarian Cancer Awareness Month.  At the school bus stop, other parents noticed the unusual color, sparking a series of conversations about the disease.  "By the end of the week, all the moms had teal toes," Carey later recalled. "I realized this idea had legs."  Within a few months, Carey formed a new nonprofit called Teal Toes.
Teal Toes uses the internet and social media to encourage people to paint their nails teal, with the goal of starting a conversation about ovarian cancer. Carey's husband gave her the Teal Toes domain name as a Christmas present in 2007, and she joined Facebook in 2008 to further spread the word.  As social media has evolved and expanded over the ensuing years, Teal Toes goes wherever people are gathering and talking.  Spreading awareness about ovarian cancer symptoms was Carey's founding mission of Teal Toes, and it continues to be our guiding mission today.
In 2015, OCNA awarded Carey the Cindy Melancon Spirit Award.  In their award, OCNA stated,
Carey's continued dedication to ovarian cancer education and advocacy has helped spread the word to thousands of individuals, with over 10,000 likes for her organization on Facebook.  As a survivor of multiple re-occurrences of ovarian and breast cancer, a founder of an organization committed to ovarian cancer education, and strong advocate for ovarian cancer, Carey continues to be a source of great courage and inspiration to the ovarian cancer community.  Carey is this year's winner of the Cindy Melancon Spirit Award due to her courage, spirit, and deep commitment to the ovarian cancer community.
Carey passed away in June 2015, before she could accept this award in person, but in July 2015, Carey's son Sam Schulman traveled to the OCNA Conference in San Diego to accept the award on her behalf.   A video of his acceptance speech is here.  Sam, now in high school, is a member of the Teal Toes Board, contributing both his practical IT skills and his hard-earned perspective on how ovarian cancer impacts entire families and reaches across generations.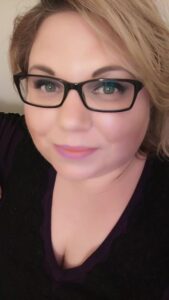 In 2018, Caroline H. Little became the Executive Director of Teal Toes.  As a survivor herself, Caroline is deeply passionate about educating everyone about symptom awareness, dramatically improving the rates of early diagnosis, and achieving our vision of a world without ovarian cancer.  Caroline is also closely involved in understanding and educating others about both the medical research and the public policy choices that can promote our vision.  Working with the Teal Toes Board of Directors, Caroline has brought incredible new energy and connections to Teal Toes.  We encourage you to read her inspiring story, connect with us on social media, and use the contact form on this website to request symptom cards!
Funds raised by Teal Toes cover the costs of printing and mailing our ovarian cancer symptom cards, which Teal Toes provides free of charge.  The weeks leading up to September are some of the busiest of the year.  In addition to displaying symptom cards at nail salons, doctors' offices, and gyms, some recipients leave them with the bill in a restaurant or tuck a symptom awareness card into a library book before returning it.
The ways that people use symptom cards to raise awareness about ovarian cancer continues to surprise, encourage, and inspire us at Teal Toes.  We've had at least one bride whose mother had ovarian cancer give teal polish and a symptom card away as a favor at her wedding. Another woman's son gave polish as a favor at his bar mitzvah.  Teal Toes has worked with high schools and several sororities to host fundraisers for ovarian cancer.

Teal Toes is also a Community Partner of the Ovarian Cancer Research Alliance (OCRA), a nationwide network that connects potential fundraisers with ovarian cancer groups in their local community.
Teal is a pretty color that is also just nontraditional enough to start a conversation.  More than a dozen years after Carey founded Teal Toes, the need to spread awareness about ovarian cancer is as urgent as the day she mailed our first symptom card and hosted our first pedicure party.  Join us in the effort.  We hope we can offer an easy and even fun way to show support and solidarity and reach a vision of a world without ovarian cancer.