Start A Conversation
How did the idea for Teal Toes start?  With a real conversation in 2006 like the one below.  We encourage you to start your own conversation:  the information you share could quite literally save a life.
Scene: School bus stop, the week after Labor Day.
(Usual hellos, how's the school year going, etc.)
Tori: Wow!  New pedicure?
Carey: Yeah!
Susan: What color is that? Blue?
Carey: No, it's teal.  September is Ovarian Cancer Awareness Month and teal is the official awareness color.
Judy: Gorgeous. Ovarian cancer? Isn't that what that new vaccine is for?
Carey: No, there's nothing like that for OC.  In fact, OC is often not diagnosed until the disease has progressed.
Tori: But I thought that is what we get an annual pap smear for!
Carey: Nope, pap smears test for other things.  The symptoms of OC are often hard to see.  They are:
Bloating
Pelvic or abdominal pain
Difficulty eating or feeling full quickly
Urinary symptoms (urgency or frequency)
Judy: I think a friend of mine's mother had that. She just thought it was a tummy thing until it was too late.  Why haven't we heard more about this?
Carey: That's why I painted my toes teal!  So people would ask!
Susan: Who did them?
Carey: That new nail place over by the theater.  They carry all the OPI colors, including this special teal.
Tori: Hey, let's go tomorrow!  Meet me there!
This "conversation" was compiled from the various conversations our founder Carey had at the bus stop, gym, yoga class, a bridal shower, and various other places one September after she had first painted her toes teal.  By the end of that month, many other people had started painting their toes teal too, in solidarity and support, and Carey realized this could be a way for many people to start their own conversations.
Ovarian cancer symptoms are sometimes said to "whisper."  We have all become far more informed than we once were about breast cancer; now it's time to extend this awareness to its "cousin," ovarian cancer (the "breast cancer gene" can also trigger ovarian cancer).
Ideas for a "Teal Toes" campaign: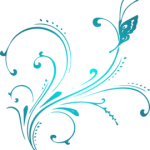 September, Ovarian Cancer Awareness month, is the perfect time for one last pedicure for a cure and trying an "nontraditional" color.
For many women, teal is an nontraditional enough color that it does spark conversations, leading to further awareness.
Host a teal pedicure party at your local salon!
Teal is pretty!  Have fun with all its great shades!